MLS '13: The Centennial Lamar Hunt US Open Cup
As we prepare for the next league season in US Club Soccer, whether it be in Major League Soccer, the North American Soccer League, United Soccer Leagues Pro Division, PDL, NPSL, USASA or what have you. There is another competition that we can't wait for, and it's rounding into a special age that all of us are anticipating.
Since the first US Open Cup tournament in 1914 - won by the Brooklyn Field Club - 2013′s version will officially be tagged as the 100th Edition. The tournament was dedicated to Lamar Hunt in 1999, a great man who has helped the game and was inducted into the Hall of Fame as a builder.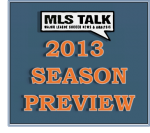 Since that dedication there have been improvements, deletions and better improvements to make this Cup competition so exciting, so magnificent that you are screaming for more. Everywhere you look from within the circles of the professional and amateur sides of US Soccer, many speak about the desire of winning the trophy that allows you to be called champions of the sport in the United States.
As I have said before during the last edition of the US Open Cup, there were so many upsets, so many situations, so many goals and cards dealt you probably lost count. It goes to show you that there are many supporters that love this Cup competition and want to see it grow in the right way.
But as we are preparing for the running of the 100th edition of the US Open Cup, the same questions continue to pop up, and the same problems continue to show. So how can the USOC improve, and how do we find a way to sustain that improvement for the next hundred years?
Well the first suggestion would be a corporate sponsor to advertise the tournament like what Budweiser and E.ON have done for England's FA Cup over the years. US Soccer should inquire with one of their corporate partners to sponsor the tournament or find someone new, like Amtrak, that has stations near soccer stadiums.
The next suggestion of course would be television. While we all know that Fox Soccer and their Fox Soccer Plus channels shows designated FA Cup matches to be aired on television from Round one proper all the way to the final, that necessity must happen for the US Open Cup.
At the moment only the Final has been shown (with the exception of the Seattle Sounders/Cal FC Round Four Proper match last season). While the first two rounds could be a hard sell, having MLS sides in the tournament from Round Three until the end would be a big boost. I would hope to see NBC Sports Network would make that leap, as they broadcast MLS now and the English Premiership this fall.
Currently GOL TV has the rights to broadcast the final for this season and next, but if we are going to keep making these matches during the middle of the week and on television then there should be at least two on a Tuesday and two on a Wednesday.
For the supporters who want to travel to away games and not to rush getting back to work all within a 24 hour period, all match dates must be separated. For the last two to three years, the early Rounds One through Three have been played back to back to back in the midweek. It's time to allow some separation, and there is plenty of time to make those dates available, talking with CONCACAF on their Champions League dates.
But once again while we are hoping for more and better things to come for this tournament from US Soccer, there is another side that must continue that growth.
That falls on all of you who continue to read this site and the other sites dedicated to covering this Cup competition. All of us are in this together whether you know it or not. Show your support during these live internet streams, recap shows on the internet and make sure they know that's it worth the time. The US Open Cup is 100 years old, and it deserves respect and attention from every corner of this great nation.