MLS '13: The Unbalanced Schedule: A Year In
As most of us know the new Major League Soccer Schedule announcement is always an exciting day for an MLS supporter. When to plan road trips, those big rivalry games against those sides that you want to beat so badly and so on.
But for the second season in a row the uneven Schedule has returned. Once again, the main question has always popped up, who or which conference has the advantage when it comes to this type of scheduling. Well right off the bat I would say it's the East and here is my reason why.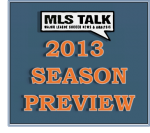 Most of the cities in the East have the advantage of easy travel when it comes to those sides from Washington DC all the way to both Montreal & Toronto when it comes by train. From between a few hours up to half a day, teams like the Red Bulls, Union, DC United and the Revolution are usually within a reasonable travel day from their most common opponents.
Some of these stadiums are either a few blocks away or a transfer to local transit like the Metro in DC, SEPTA in Philadelphia, the PATH Train at Newark Penn Station, and so on. Trips to Columbus, Chicago, Houston & Kansas City are obviously plane trips. Don't forget it would be via Rail in Canada between Montreal and Toronto.
But when it comes to the Western Conference you could see some form of train travel when it comes to Los Angeles, San Jose and possibly a long road trip to the Cascadian Northwest. But once again the plane rides to most of these cities or towns outside of Los Angeles and San Jose are considered to be the favorite.
But if you really believe that the traditional Schedule should be returned, then that will probably happen once that twentieth side comes around sometime down the road. Whether it be this supposed second New York City side, or down in the Southeast in Orlando, Atlanta or elsewhere is anyone's guess.
But the one thing I felt that Major League Soccer did with the tradition schedule back in the 2011 season was absolutely absurd. Forcing a team in the east within two weeks to play away matches starting off in the Pacific Northwest for two games, then a cross country trip to the Central time zone, back east for a US Open Cup match and then back to the west coast in Silicon Valley.
That was a grand total of five games, four on the road with changing time zones within a two week period. This type of scheduling can work in the NBA or the NHL, but sadly this doesn't work nor should it be considered ever again for an MLS side.
I understand from those who support a proper schedule from start to finish that we should get back to that, but at the moment this version will be more regional focused and I don't mind it. But when it comes to those special match days that should be used for World Cup Qualifying and no league interference, sadly that annoyance has returned.