MLS '13: Is Generation Adidas Working?
When Robert Hay and I were tossing around the idea of a Season Preview series, the team-by-team thing seemed a little tedious. I asked him to start throwing out some general ideas, and I tossed in a few of my own. This was one of them, and I'm not sure this is an easy one to answer.
The Generation adidas program morphed from the old Project-40 program, and according to a press release from 2006:
Generation adidas, which was established ahead of the 2005 MLS season, is Major League Soccer's youth player development program designed to identify and nurture the elite youth soccer talent in the United States. The youth players who join MLS as part of the Generation adidas program receive unprecedented opportunities to develop their game and hone their skills at the professional level in Major League Soccer. In addition to training and playing on a weekly basis with one of Major League Soccer's 12 professional clubs, Generation adidas players will also receive educational grants to further their college education.
If you take a look at the Class of 2006 at that same link, you can see the program started off in strong fashion: Altidore, Kamara, Kljestan, McCarty, Ianni, Wynne. There were some other players that don't have the same reputation as those six: Jacob Peterson, Willie Sims, Nathan Sturgis, Blake Wagner, and Jed Zayner. So out of 11 players from the initial GA class, 3 are now in Europe, a couple are high quality MLS players, and the rest are either journeymen in MLS or out of the league altogether.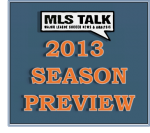 There were Project-40 classes before 2006, but for the sake of discussion the 2006 class was a solid one. But this isn't 2006, it's 2013. The program surely provided teenage and college graduates (specifically those who might impact the National Team) with a chance in the early years to be funded as well paid professionals, while not hampering MLS teams' salary structure with a player who may take years to develop.
Every GA class seems to have its Sacha Kljestan (a solid contributor who has or probably will make their way to a good European club) and its Willie Sims (who appeared 9 times for New England and has wandered around the lower leagues for years). It's tougher to gauge recent classes as well, because many of these kids are still under the age of 22. We in American sports tend to consider 22 to be quite young with the best yet to come. In international soccer realms, 22 is right at the beginning of a players' prime.
Perhaps that's where Generation adidas gets a bad rap - and it's not really the program's fault, but more the culture in the United States. At 21 years old, the oldest of the GA players are not getting into the pro system early enough. Often the younger players are not quite ready for the first team at most MLS clubs, so they end up either on the bench, in a reserve team that gets many fewer matches, or not even playing at all. Training with the club does help, but real match experience is very important.
With all of that, scouting isn't perfect, and you're always going to have an element of signing players to GA contracts that don't live up to the billing.
So why do players not get enough experience? There are a few factors.
- Fighting for position. The two GA forwards taken in 2010 by the Philadelphia Union, Danny Mwanga and Jack McInerney, fought that philosophy. With Sebastien LeToux and Alejandro Moreno ahead of them in the depth chart, only Mwanga got significant playing time in his rookie season. When Moreno left, the club brought in Carlos Ruiz. Again, playing time was impacted, primarily for McInerney. Finally in 2012, after Ruiz, Le Toux, and Mwanga had all been shipped out of town, McInerney got his chance to shine. He scored 8 goals in the second half of last season.
So what did the Union do in the offseason? Reacquire Le Toux and select Conor Casey in the Re-Entry Draft. They also have another GA forward, Chandler Hoffman, and speedster Antoine Hoppenot. It remains to be seen if McInerney will see regular minutes after a breakout 4 months.
- Delaying Graduation. Eventually, a GA player must graduate. That can be mighty costly for a team that is in a tight salary cap situation. Steve Zakuani was a GA player entering the league in 2009 - he made a base salary of $65K, and guaranteed compensation of $163K. None of that counted towards Seattle's cap number because GA players are exempt. He graduated after the 2009 season, based on factors that aren't quite clear but seem to be appearances, minutes, goals, and other performance factors. In 2010, Seattle was forced to take $80K of base and $178K of guaranteed compensation on their books (caveat: the MLS economic system is confusing, and it's not clear whether base or guaranteed compensation is the number that matters in terms of the cap).
I'm not sure if a team has ever come out and admitted trying to limit the parameters that trigger graduation, but if I ran a team, the thought would certainly cross my mind. Either you gamble that a player will improve enough with playing time to make it worth the cap hit, or you leave him to never have the chance to improve.
- Lack of quality. I don't know who selects the players who receive GA funding, but they can get it wrong too. If a player just doesn't cut it, and appears to be of insufficient quality to ever crack the first team, the player will collect his contract and ride the pine.
Of course there are plenty of times when a player succeeds because of the system. Omar Gonzalez and Brek Shea are great examples of players who pan out. In Shea's case, F.C. Dallas has received a handsome fee from Stoke City for developing Shea. Roger Espinoza was also in his class, and went to Wigan Athletic on a transfer. There are quite a few others players on that list who are serviceable veterans in MLS, and some that fizzled.
It leads to the question of what would be better? How would we improve Generation Adidas? I'm not sure. You could consider punishing teams who select GA players only to allow them to go to waste on the bench - clubs may they decide to stop selecting the players altogether.
One idea that I have is trying to incentivize teams who develop their GA players to their fullest extent. MLS could set a standard date for graduation from Generation Adidas - say 3 years. In the third year, a panel could rate the graduating players, and salary cap exemptions could be extended a year for the top 3 or 4 players. It would give the teams a chance to evaluate their options with the player, either a long term deal or a chance to sell them on for profit.
But in my opinion, the current GA system is a little punitive towards teams that do give the players a chance. It's as if teams must weigh a player's chances of being a regular starter within three years, or it's not worth chancing the short-term lack of production and long-term cost.
With all of that, I would have to say that Generation adidas is only as good as the talent entering the program. As long as there is a Darren Mattocks or Jozy Altidore that benefits MLS through the program, it will continue in some form. I just hope that MLS and US Soccer can find a way to improve the rate of top footballers who graduate from GA.
What do you think? Are you happy with the way the Generation adidas program is working in its current form? Do you have any ideas how it can be improved? Comment below and give your feedback about the way MLS handles the young player.