MLS '13 - A Pivotal Year For Landon Donovan
When we're starting to take down those 2013 calendars in order to prepare for 2014, one would imagine that the landscape for the US Men's National Team and Major League Soccer could be quite different than it is right now. We've been waiting to hear what America's most heralded player, Landon Donovan, was going to do in 2013.
That news finally came across the wire on Sunday, as it appears Donovan will soon make his return to the playing field. He will be rejoining the Los Angeles Galaxy to train towards the end of March, a development that will no doubt ease some minds on the West Coast.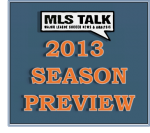 The best developed player from within US Soccer circles is returning from a long rest, hopefully to have recharged physically and mentally at the age of 30. He plans to resume his career, and honestly it's a welcome sight to see. Everything that Donovan has done for the game in this country has to be commended, ever since he suited up in the 2002 World Cup in South Korea and Japan.
While it's a happy day for Los Angeles soccer fans (and likely the league office), there is a bit of a problem. This "sabbatical" has encroached upon an important stretch for the U.S. National Team in two very important qualifiers. He will not be fully fit for the home game against Costa Rica or the follow-up road grudgefest at the Estadio Azteca in Mexico City. Having a fully fit Landon Donovan would be a big help for the team against Mexico down in the Azteca - against a team that has already conceded a big point to Jamaica on February 6th.
We do remember that Donovan was subbed out before the start of the second half in the friendly victory at the Azteca last August due to injury. But while three points weren't on the line that time, they will be on March 26th.
The second half of last season began a steady grumbling from Donovan. He emoted that he felt like he could be at the end of his career, and that he needed to take some time. Even if he simply ends his career with the National Team, I have to say that that it is a rather poor time to be calling it quits internationally. He once said he wants to play another World Cup and that chance is right there for the taking.
His change in demeanor seemed to have precipitated as soon as Jurgen Klinsmann took over the national team. He already missed the Honduras road game and will miss another two next month for this bit of a mental break. His appearances with the team have been fewer and farther between. If a person were to look at the situation with a superficial view, they might wonder if the relationship between Donovan and Klinsmann has never really been strong.
What follows from all of that might be the biggest worry for USMNT supporters: what if Landon's retreat from the community for months pushes Klinsmann to drop him in the qualification cycle altogether - even if Donovan indicates a desire to return? Would Donovan accept a minimized role in the summer's CONCACAF Gold Cup? Or would Klinsmann effectively end Donovan's National Team career by not using him in qualifiers and only selecting him for the meaningless tournament? In that sense I feel this type of scenario would be a major negative.
There have been many great European players, and they count the cost every time the cycle comes around. They know what is in store for them every time they play a league match for their club and a World Cup qualifier for their country. While it is very taxing on them physically and mentally, they get it done. Why Landon Donovan felt all of this weight and decided to take the break, we may not know or fully understand.
I was expecting Donovan to ride off into the sunset with his National Team career after playing an integral part in the World Cup in Brazil next year (assuming the USA qualifies). Make no mistake that I respect the career of Landon Donovan and know the type of player he is for our country. Throughout the years he played for both the original San Jose Earthquakes and the Los Angeles Galaxy in Major League Soccer, I detested the negative tease that was hurled at him: "Landycakes." This man deserves our respect, and at the same time we should celebrate his accomplishments for club and country.
But to be honest I hope he hasn't made a rash decision that could impact a Hexagonal qualifying year - especially in a transitional year when we need him the most. When the World Cup rolls around, the US's involvement in the grand display may depend on the fallout from the decisions that have been, and will be, made. It's alright that Donovan is anticipating the end, but if only he could hold off until after this calendar year. Or better yet, after the 2014 World Cup in Brazil.