MLS '13: Which Teams Improved Most This Offseason?
The New York Red Bulls and Sporting KC seemed to be the only teams to get their signings done early, and much was in the works or finished before the 19 clubs in MLS began preseason training.
Sporting began back in early December while most teams were napping following MLS's longest season to date. Both Eastern Conference teams were making the big splashes to improve their squads in the league following two consecutive years of differing fortunes.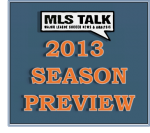 Both lost in the Eastern Conference Semifinals in 2012, ending a season in which one of the two was expecting to make the MLS Cup Final. Both teams are now trying to overcome the hurdles they have continually met in the playoffs in recent time. And both clubs look built to win now, rather than in three or four seasons.
While others teams have added here and there and looked to the SuperDraft, New York and Sporting have looked within the league and afar to find pieces to lead them to the Holy Land of the Cup final. Both have added important pieces to the puzzle, but with one club (New York) continually underachieving and the other club (Sporting) so close yet so far, it may be another addition or two during the season to put them over the hump.
(Please not that when writing about the offseason acquisitions, the MLS SuperDraft was not calculated in.)
The three best offseasons:
Sporting KC
IN: Claudio Bieler striker (DP), Benny Feilhaber midfielder, Ike Opara defender, Josh Gardner defender, Yann Songo'o defender
OUT: Roger Espinoza midfielder, Julio Cesar defender/midfielder, Michael Harrington defender, Cyprian Hendrick defender, Konrad Warzycha midfielder, Nevan Marovic defender, Korede Aiyegbusi defender
Based on player potential, it is hard to separate New York and Sporting. Both teams addressed important positional needs in the offseason. However, Sporting's star power signings along with the role players the team added, push them just slightly over the threshold of best offseason.
On paper, these moves look fantastic. The additions of an experienced goal scorer, a creative midfielder and a young center back, to go with the role players, seem outstanding and qualifies the club as making the best moves during the winter. But looking at it in a more realistic way, there is a lot of uncertainty on how well these new pieces will perform in 2013.
The biggest signing the club made was Argentine Designated Player Claudio Bieler. The striker's best seasons have come with Ecuadorian side LDU Quito, a regular in South America's Copa Libertadores and Copa Sudamericana, where he tallied 20 goals in 36 games last season. As a DP, Bieler's salary over $350K does not count against the salary cap. However, the club are making a big investment in a player that has had mixed results outside of Ecuadorian soccer. Sporting has definitely gotten a striker that can be more clinical than Teal Bunbury and C.J. Sapong, who missed a number of chance in last season's playoff second-leg loss,  but much of his success will depend on how long it takes the striker to adapt to MLS play.
The two other big offseason signings for the club were Benny Feilhaber and Ike Opara. Both players have failed to fulfill expectations since their respective MLS arrivals. Feilhaber is now with a team that truly wants him, and Vermes' familiarity with the midfielder should improve his play greatly. The downside could be Feilhaber's cost versus performance as Sporting gave up a 2014 and 2015 first round MLS SuperDraft pick and allocation money to land him. This definitely shows Sporting's thinking that a quality player now is worth more than future prospects.
Feilhaber's $446,000 cap-hit on New England last season was not truly worth the five goals and nine assists he tallied for one of the league's poorest - in terms of performance - teams. In Kansas City, however, he will have better quality players around him to improve on  those stats, and with a set of midfielders that will do the running and tackling for him, Feilhaber can focus on starting Sporting's attack.
Opara was due to earn over $100,000 in San Jose this season and after playing only 36 MLS games in three seasons, and the club decided he was not worth the price. Opara came into the league tabbed as the next Oguchi Onyewu - take that however you like - but has been troubled by both injury and inability to adapt to MLS play. Vermes' history of developing young players like Chance Myers, Graham Zusi, Bunbury and Sapong should make fans optimistic about Opara. However, playing behind Matt Besler and Aurelien Collin, one wonders when Opara will get his chance to play and why he will be paid so well to sit on the bench. Especially when the club could have just kept Michael Harrington on the roster.
Again, based on potential, Sporting had the best offseason in terms of player recruitment. How well the players adapt to the club's 4-3-3 system and to league play will tell us if Sporting's decisions paid off. Grade: A
New York Red Bulls
IN: Juninho midfielder, Jamison Olave defender, Fabian Espindola striker, Eric Alexander midfielder, Ruben Izquierdo midfielder, Kosuke Kimura defender, Heath Pearce defender
OUT: Rafa Marquez defender, Kenny Cooper striker, Joel Lindpere midfielder, Victor Palsson midfielder,
The New York Red Bulls fall into second, and like Sporting, New York has made moves that look good on paper and have the potential to push the team to the top of the East. However, looking at it closely, it looks as though the team added players (Juninho) and subtracted players (Joel Lindpere) due to a name rather than what will be produced on the field.
Likely the best move the Red Bulls made was to finally divorce themselves from the oft-injured, lazy and suspended Rafa Marquez. He will no doubt go down as the league's worst DP signing of all-time. What little in the defensive phase they may have lost in the departure of the oft-injured or suspended Marquez, New York hopes that MLS Cup winner Jamison Olave will more than improve the situation. The Columbian has had a fantastic MLS career, and his addition should bolster the team's defending immediately.
Fabian Espindola was also acquired from RSL in the Olave deal, and he also brings a winning mentality with him from his former employers. The Argentine will take the place of the recently exited Kenny Cooper, who tallied 18 goals in 35 games last season in an excellent year for the Red Bulls - Espindola tallied nine in 32 games. Espindola will obviously play second or third fiddle to Thierry Henry, but his goals tally will be a big fall-off from that of Cooper.
The signing of Brazilian Juninho Pernambucano has most likely boggled the minds of many fans and pundits. Of course, the playmaker had success at Lyon under Gerard Houllier. He is the very man that works as Head of Soccer for Red Bull and certainly brought Juninho to Harrison, New Jersey. Juninho had been playing in Qatar, where play is slower and the talent level is lacking, prior to a switch back to Brazil with Vasco da Gama in 2011. Therefore, some will see this as yet another money-grab by the former French Ligue 1 winner. The talent is still there, however, the biggest question is how well he will react to a league known for its athletically physical play?
Though the team only gave up 46 goals a season ago, the Red Bulls was third worst in the Eastern Conference in goals allowed. The additions of MLS Cup winner Kosuke Kimura and veteran defender Heath Pearce should, along with Olave, give the defense an toughness it hasn't had in recent years. Of course with the Red Bulls, it's hard to say what will happen on the pitch; and with another new manager in Mike Petke, anything is possible. Grade: A
Portland Timbers
IN: Will Johnson midfielder, Ryan Johnson striker, Milos Kocic goalkeeper, Michael Harrington defender, Mobi Fehr defender, Diego Valeri midfielder, Ryan Miller defender, Ben Zemanski defender, Michael Nanchoff midfielder
OUT: Freddie Braun midfielder, Charles Renken midfielder, Ian Hogg defender, Kosuke Kimura defender, Eric Brunner striker, Lovel Palmer midfielder, Steve Purdy defender, Steve Smith defender, Joe Bendik goalkeeper, Mike Fuciot striker, Kris Boyd striker, Eric Alexander midfielder
Despite the comings and goings at Jeld-Wen Field, the biggest offseason signing in Portland was new head coach Caleb Porter. Porter becomes one of only a handful of MLS coaches to make the jump from the USA's college soccer level to the pro ranks. Since taking over the Timbers, who has had two mediocre years since joining MLS, Porter has added and subtracted players that could make them more competitive in 2013. Gone are a plethora of low quality players in the form of Lovel Palmer and Freddie Braun, that seem to have been stalwarts with the club since its first games in MLS. In their places are more experienced, higher-end MLS players like Will and Ryan Johnson. Will Johnson was a casualty of Real Salt Lake's need to restructure under the salary cap. Johnson was part of the 2009 MLS Cup winning RSL team, and has a plethora of international experience playing with Canada and the Utah-outfit in the Champions League.
With the young core Portland already possess in Danny Mwanga and company, these signings should propel Portland to its first playoff qualification in MLS. But much of the team's play will determine on how quickly its new manager adapts to the league. Grade: A-
Everyone else…
Chicago Fire: The Fire made the playoffs in 2012, but was smoked by eventual Eastern Conference winners Houston. Chicago has added quality in key areas with the signing of Joel Lindpere and Jeff Larentowicz, two of the most underrated players in MLS. The defense was good last year giving up a mere 41 goals, second best in the east behind Sporting. Only five players were added, however, with four being midfielders. Grade: B+
IN: Maicon Santos, Dilly Duka, Jeff Larentowicz, Joel Lindpere, Brendan King
Chivas USA: Chivas has released or traded approximately 12 players this offseason while adding only three players through free agency or trade. There new scheme of mostly signing players of Mexican or Hispanic descent seems to be in full-swing, but with only three non-SuperDraft players brought in thus far, Chivas has had the worst offseason in the league. Grade: F
IN: Eric Avila, Steve Purdy, Carlos Borja
Colorado Rapids: The Rapids have had a solid offseason addressing the team's needs under second year head coach Oscar Pareja. Atiba Harris will add much needed pace on the wings of the club's 4-3-3, while Edson Buddle will play through the middle. Nick LaBrocca had several solid seasons at Chivas before making the move to Colorado and should add quality minutes to the side. The Rapids also picked up Nathan Sturgis, a once promising player whose skills never fully adapted to the professional game and has now become a league journeymen. Sturgis should be used as a utility player for the club to fill in the gaps when needed. Grade: B+
IN: Nathan Sturgis, Atiba Harris, Edson Buddle, Nick LaBrocca, Diego Calderon, Kevin Harbottle, Charles Eloundou
Columbus Crew: SuperDraft, Homegrown and Discovery players litter the Crew's offseason transactions. The black and yellow barely missed out on the playoffs last season, but with this offseason's moves, it's hard to figure the Crew will push for anything more than a fifth spot in the playoffs at best. Though the club did trade for Dominic Oduro who should add more pace to the attack, the team have added little in MLS quality. Grade: D
IN: Tyson Wahl, Wil Trapp, Chad Barson, Glauber, Agustin Viana, Dominic Oduro, Mattias Sanchez
DC United: DC was so close yet so far in last season's playoffs, and the moves - both in and out - the team have made in the offseason do not seem to have pushed the team either way toward improved or not. The loss of Kevin Payne to Toronto seems to have already hurt the building of the team for 2013. The most notable transaction is actually a loss for the club and that was the sale of full-back/winger Andy Najar to Anderlecht. Though some fans may be happy to see the back of the Honduran after he threw his toys out of the buggy during the postseason, receiving a justified red card, many will feel he hasn't been adequately replaced. Grade: D-
IN: John Thorrington, Rafael, Michael Seaton, Syamsir Alam, Casey Townsend, James Riley
FC Dallas: The red and white will also deal with a major loss this season in the form of Brek Shea. Though Shea's performances in 2012 were lackluster, return of David Ferreira and the attack focus taken away from him didn't help, his presence on the pitch will be missed. The team has already added an enviable amount of fire power with Eric Hassli and Kenny Cooper, and with Ferreira pulling the strings from midfield, Dallas should be an exciting team to watch. Grade: B+
IN: Kenny Cooper, Eric Hassli, Stephen Keel, Bradlee Baladez, London Woodberry, Raul Fernandez,
Houston Dynamo: Thus far Houston has done very little to capitalize on its run to the MLS Cup final in 2012. Only three non-SuperDraft players have been brought in, and this qualifies the team to having one of the worst offseasons in MLS. In addition the club lost Andre Hainault who made 104 appearances for the Orange. But as always, Houston is more than the sum of its parts, and with Dominic Kinnear as coach, the Dynamo is always dangerous around playoff time. Grade: D
IN: Eric Brunner, Omar Cummings, Bryan Salazar
LA Galaxy: Two MLS Cups in two years, the Galaxy continue to go from strength to strength within the league. Though the team lost David Beckham and all that comes with him, the Galaxy is still the team to beat in 2013. Nothing major has come into the team, except the permanent transfer of Juninho, but expect the club to do more once the summer transfer window opens and the European leagues finish. The team has definitely trimmed the fat so far, and may have figured out its goalkeeper conundrum by adding former Chelsea and Tottenham keeper Carlo Cudicini. Grade: C+
IN: Juninho, Carlo Cudicini, Colin Clark, Gyasi Zardes, Oscar Sorto
Montreal Impact: The Impact has also had a quiet offseason the player front, though the team did add new manager Marco Schallibaum. Thus far the club has done little in new signings with Italian Andrea Pisanu being the Impact's biggest move. Pisanu is only on loan from Bologna in Italy's Serie A. Grade: F
IN: Andrea Pisanu, Andres Romero
New England Revolution: The Revolution finished 18 points outside of a playoff spot in 2012. The moves the team has made since the last day of the season have been positive. Most notably is the return of midfielder Andy Dorman. The Welsh midfielder was with the team during its three-year spell of MLS Cup runners-up performances. This is a different team now, but Dorman should be looked at as the leader on the field. Though there has been a quantity of players brought in, the quality may not be there for the team to make the playoffs in 2013. Grade: B-
IN: Bilal Duckett, Matt Horth, Jose Goncalves, Scott Caldwell, Hunter Freeman, Chad Barrett, Kalifa Cisse, Andy Dorman
Philadelphia Union: A year ago the Union's roster was blown up when it didn't have to be. This offseason the team's hierarchy is doing a fantastic job of putting the pieces back together that were shattered in 2012. The two biggest acquisitions have been Jeff Parke and Sebastien Le Toux., the former will improve the defense while the latter will be the man to orchestrate the team's attack. That is, if Le Toux is the man he was in 2011 rather than the player he was in 2012 for Vancouver and New York. Conor Casey has been brought in to put the goals away, and keeping him fit will be the biggest task for the team's trainers. Grade: B
IN: Sebastien Le Toux, Conor Casey, Jeff Parke, Aaron Wheeler, Damani Richards, Alex Mendoza
Real Salt Lake: The 2009 MLS Cup winners have blown up their team this offseason. Will Johnson, Fabian Espindola and Jamison Olave are all gone, and in their places are cheaper players with less of a MLS pedigree. The team's most notable signing is the returning Robbie Findley, a player hated by fans around the league and a player that failed to make it in England's second-tier of soccer. Findley had a lot of success in his previous stint with RSL scoring scoring 29 goals in 96 games. The biggest questions will be how to fill the holes left by Olave and Johnson, however.  Grade: C
IN: Robbie Findley, Cole Grossman, Aaron Maund, Lovel Palmer, Joao Plata.
San Jose Earthquakes: Last year's Supporters' Shield winner San Jose has made the signing of MLS journeymen utility players its main priority. Nothing overwhelming has joined the club in the offseason, but nothing major has left either. Nonetheless, San Jose is another MLS club to do little outside of the MLS drafts during the winter. Grade: D
IN: Dan Gargan, Ty Harden, Bryan Jordan, Mike Fucito
Seattle Sounders: The biggest news out of Seattle this offseason was the January loan of Fredy Montero to Columbian team Millonarios. Other than that, Seattle's offseason has been an experiment in minimalism. Homegrown player DeAndre Yedlin and Lamar Neagle have joined the Sounders, and it looks as though the team will continue with what it had in 2012 at the moment. Grade: F
IN: DeAndre Yelin, Lamar Neagle
Toronto FC: The Kevin Payne era is off and running in Toronto. If fans are confused by what the team has done this time around, they can be forgiven. New coach Ryan Nelsen takes charge fresh off of leaving English Premier League team Queens Park Rangers in his first coaching role. Meanwhile, TFC has added some potentially good players and may, may be having one its better offseasons. As always TFC is a work in progress and need more players in key areas to be a certain postseason contender. Grade: C+
IN: Justin Braun, Joe Bendik, Danny Califf, Gale Agbossoumonde, Julio Cesar,
Vancouver Whitecaps: The Whitecaps big move for Sebastien Le Toux didn't pay off in 2012, nor the team's moves for big money, aging players. For 2013, the team has so far signed castoffs from teams around MLS. These unwanted players don't appear to have potential to turn the 'Caps into a top of the Western Conference team. And the team actually looks worse in February 2013 than 12 months ago. Grade: D-
IN: Paulo Jr., Brad Rusin, Corey Hertzog, Tommy Heinemann, Daigo Kobayashi